2023 Chevrolet Blazer EV in Cochrane, AB

2023 Chevrolet Blazer EV in Cochrane, AB
The first-ever all-electric Blazer EV has been announced! The Chevrolet Blazer has long been known for its excellent reliability, distinctive design, generous cabin and cargo space, and satisfying driving dynamics. Now, the Blazer EV is ready to tackle the ever-growing popularity of all-electric SUVs. This electric crossover is due to arrive in mid-2023, and we can't wait to showcase it in our new inventory here at Cochrane GM. Keep reading to learn more about this exciting arrival.
2023 Chevrolet Blazer EV Design
The 2023 Chevy Blazer EV sports a bold design that will stand out on the road. This SUV showcases a long and wide stance with a commanding front fascia complemented by sleek styling elements. The SS model is attractive and sporty, with a blacked-out roof for a unique look. It also has black A-pillars, trick dual-zone mirrors, and 22-inch wheels. The exterior design of the Blazer EV is reminiscent of sporty Chevy models like the Camaro and the Corvette, with its own distinct look and feel. The interior is completely redesigned from the current gas model. It is made with high-quality materials, including trimmed leather and soft-touch surfaces. The interior also boasts sporty styling cues with its flat-bottom steering wheel and air vent designs that you'll find in the Chevy performance models. Despite the sloping roof line, there is plenty of space for interior occupants to stretch out their legs and store their belongings in the cargo area.
2023 Chevrolet Blazer EV Technology
The Chevrolet Blazer EV keeps you and your passengers connected through advanced and intuitive technology features. Enjoy the giant and modern 17.7-inch diagonal infotainment system, which gives drivers and passengers easy-to-access controls for all their entertainment, connectivity, and convenience needs. Access comfort features from the large display, such as the heated seats, dual-zone automatic climate control, and app connectivity with standard wireless Apple CarPlay and Android Auto. Other tech features include a hands-free start system, wireless smartphone charging, and Ultifi, GM's software platform that delivers enhanced vehicle experience and services. An 11-inch digital driver information screen is also a standard feature, informing the driver of all critical information, including electric range, driving speed, and active charging updates.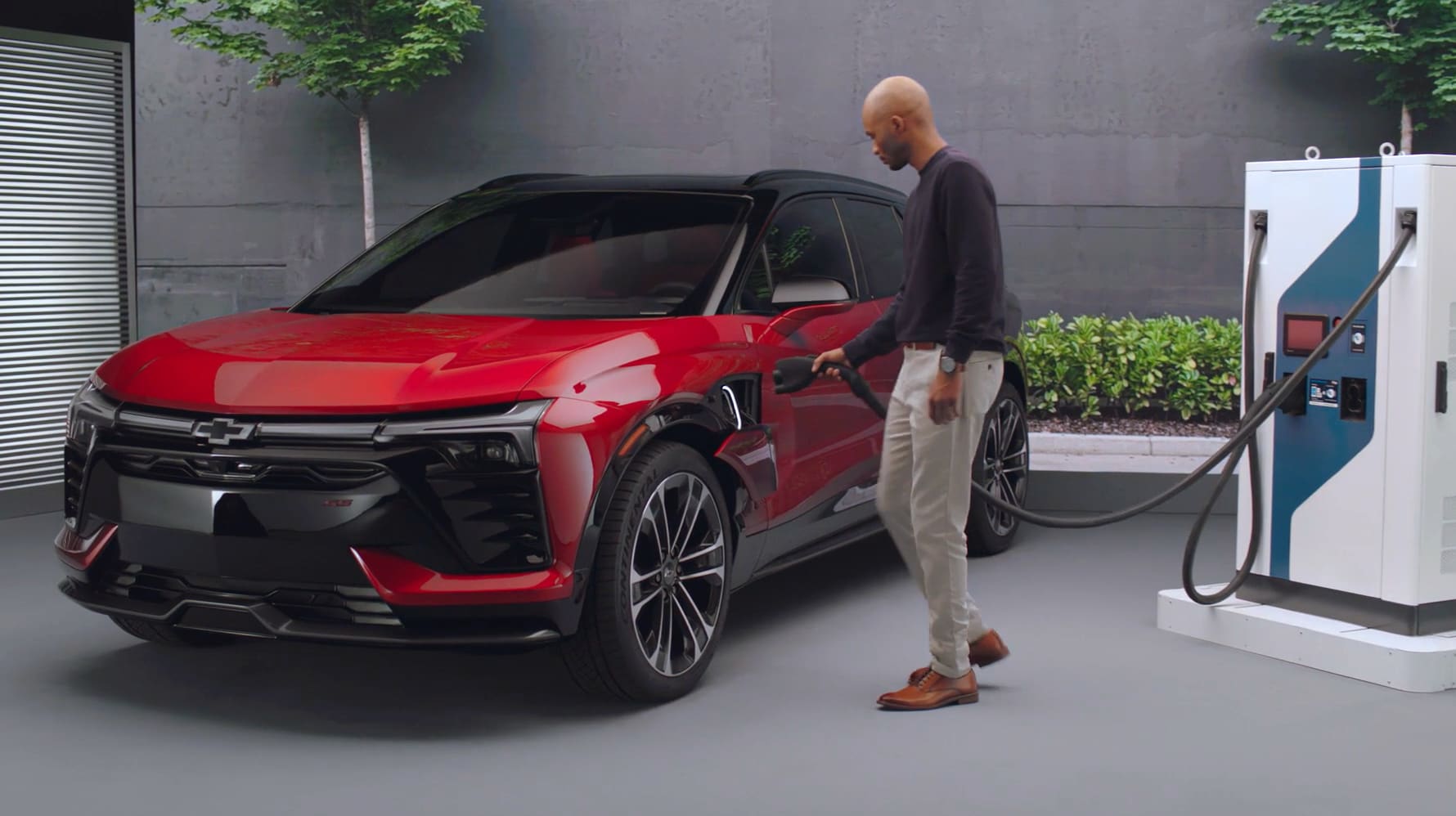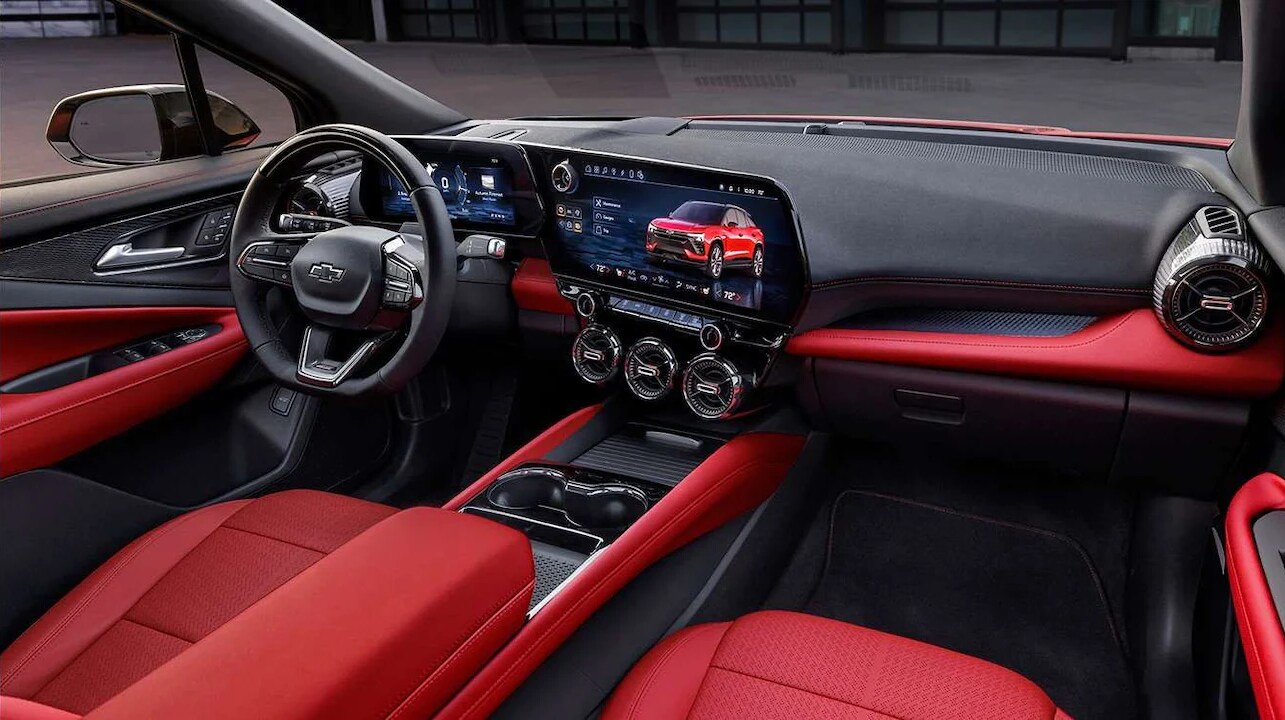 2023 Chevrolet Blazer EV Performance
The powertrain for the new 2023 Blazer EV is performance-oriented and delivers up to 500 horsepower on the SS trim with the ability to go 0 to 96 km/h in under four seconds. The exact specifications for the Blazer EV battery options have not yet been released. However, it is confirmed that there will be at least a standard battery and a larger unit available to choose from. All three popular drivetrains are available for the Blazer EV, including front-, rear-, and all-wheel drive configurations. The SS trim gets an exclusive performance all-wheel-drive system, mating a standard front-wheel-drive system with a larger rear-wheel drive setup. It is speculated that the Blazer EV can travel up to about 515 kilometres before needing a charge, but this would likely only work for the rear-wheel configuration and larger battery option. Other configurations can see an all-electric distance between about 400 kilometres to 472 kilometres.
2023 Chevrolet Blazer EV Charging
When it comes to charging, there will be a few options available for the Blazer EV's battery. It will be supported by 11.5 kW Level 2 charging and DC-fast charging up to 190 kW, depending on the model. The fast charger at optimum efficiency should add up to 125 kilometres of range to the Blazer EV in just 10 minutes.
Contact Us to Learn More!
Has the 2023 Chevrolet Blazer EV piqued your interest? Contact us today to learn more about this impressive electric crossover or to get more updates about the latest Chevrolet model announcements. Once the Blazer EV arrives, you can start your purchasing process online at our Finance Centre. We offer competitive rates to help you own your dream car faster. We can't wait to hear from you!
Make an Inquiry