Chevrolet Silverado Camera Technology

Chevrolet Camera Technology in Cochrane, AB
Getting your towing needs from a Chevrolet has never been easier, as now you can add various cameras around your Silverado to get a complete view of your pickup truck, the trailer, and everything around your vehicle. To explore our vast selection of excellent models, make sure to browse our new inventory and schedule a test drive of the model that sparks your interest. Our friendly associates are eager to help, so don't hesitate to contact us with any inquiries or questions.
Six Available Driving Views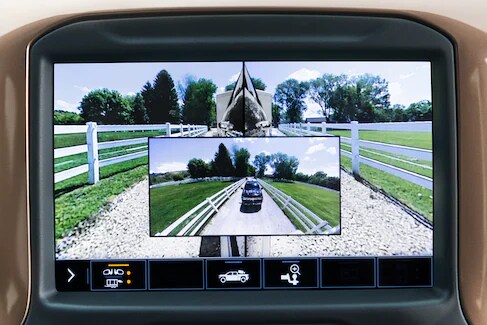 Transparent Trailer
With this view, the driver can see a virtual projection of what's behind their hitched trailer as they drive, providing more intel about other motorists driving behind.
Front Camera View
The Front Camera View is available with guidelines to assist with tight maneuvering and parking, giving the driver a clear view of what's ahead.
Pic-In-Pic Side View
Requiring the available accessory camera is the Pic-In-Pic Side View, combing both the Rear Side View with the Rear Trailer View to project one image onto the display for ease of viewing.
Rear Camera Mirror
Offering a broader and clearer view of what's behind is the available dual-function camera-based Rear Camera Mirror, displaying an unobstructed live feed of what's behind the vehicle.
Rear Trailer View
With the Rear Railer View, you will need to opt for the available accessory camera to see what's behind your trailer as you drive.
Inside Trailer View
Thanks to the accessory camera, another excellent view is available: the Inside Trailer View, which allows you to monitor trailer contents and cargo while driving.
Four Available Hitch Views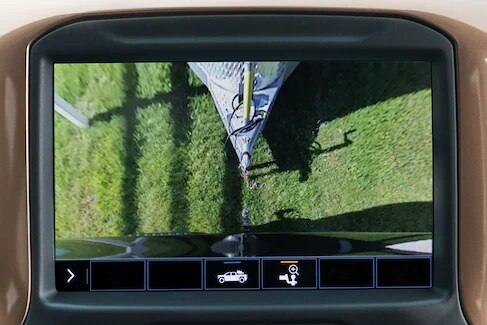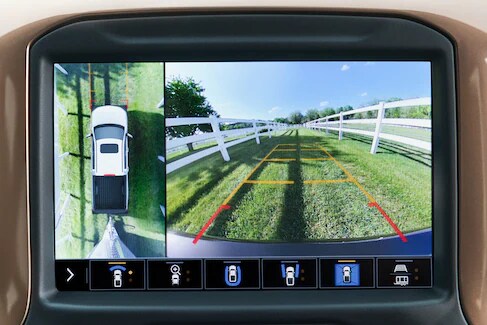 Hitch View
When you need to hook up a trailer, you will be thankful for the Hitch View, as it lets you precisely align your hitch to a trailer, making connecting a trailer a breeze.
Surround View
The Surround View displays a bird's-eye view of the pickup truck's surroundings so that you can avoid hazards around the truck.
Rear Top-Down View
The Rear Top-Down View gives you a clear view of the distance between your pickup truck and other objects.
Bed View
The Bed View lets you see cargo in the bed, and it offers a clear view to help you back your pickup truck into the fifth wheel or gooseneck trailer effortlessly.
Five Available Parking Views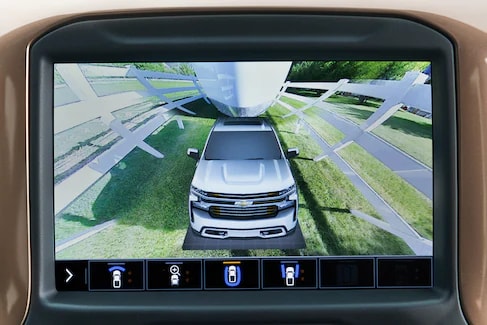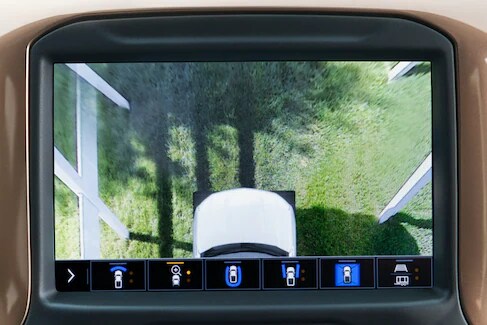 Rear Camera View
Looking through the Rear Camera View, you will see the pickup truck's rear to get a perfect view that's helpful for parking and avoiding curbs.
Front Side View
To see the position of your front wheels, all you have to do is look at the Front Side View, giving you a clear viewing angle of both front wheels to avoid potholes and curbs when parking or manoeuvring in tight spaces.
Rear Side View
For an additional angle of viewing, you can look at the Rear Side View, showing you the sides of the pickup truck as well as the trailer.
Bowl View
As you reverse with a trailer, you will want to view the Bowl View, a rear-facing 3D surround view ideal for slow reversing in tight areas.
Front Top-Down View
The Front Top-Down View shows you the hood, bumper, and front tires all in one image. This viewing angle is helpful for parking in tight spaces and avoiding objects that are not visible from the cabin.
Make an Inquiry