2022 CHEVROLET COLORADO VS 2022 NISSAN FRONTIER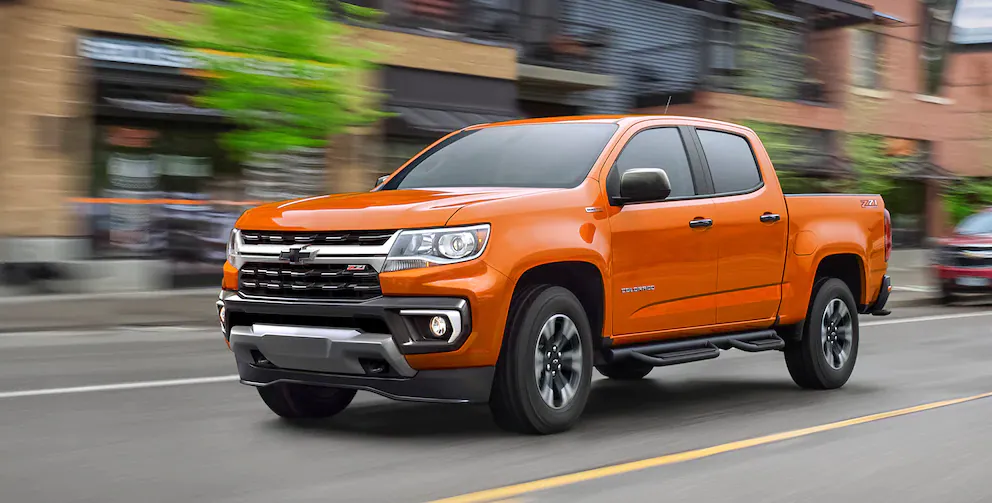 2022 CHEVROLET COLORADO VS 2022 NISSAN FRONTIER
The 2022 Chevrolet Colorado and the 2022 Nissan Frontier are some of the best mid-size pickups in their class. Both offer innovative features, stylish interiors and exteriors, and impressive towing capabilities. Here we have constructed a comprehensive comparison of their most important features. Looking to purchase a new car? Visit our new inventory page to see more quality options like the 2022 Chevy Colorado.
SAFETY
In terms of safety, both cars have their own unique and innovative features. The 2022 Nissan Frontier offers blind spot assist, automatic emergency braking, lane departure warning, and 360º all-around monitor for high-tech protection from all angles. The 2022 Chevy Colorado is made with a high-strength steel frame, multiple airbags throughout, traction control, and a rearview camera for safety both on and off the road.
STYLE
The 2022 Nissan Frontier offers a more modern twist on their interior with a sophisticated design and modern yet durable cabin. With a powerful front fascia and chiseled hood, the Frontier brings a rugged look to its exterior that is sought after in pickups. For the Chevy Colorado, it pairs its muscular exterior design together with its classy interior features to bring a rugged yet classic look to the pickup.
ENGINE
The Nissan Frontier brings trail-ready capabilities with its four-wheel-drive, 9-speed automatic transmission, and 3.8-litre V6 engine offering 310 horsepower. The Frontier also has a 6,490-pound towing capacity. The Chevy Colorado offers a standard 2.4-litre four-cylinder engine which delivers 200 horsepower and up to 3,500-pounds of towing capability. The Colorado also has available Duramax® 2.8-litre turbodiesel engine with 181 horsepower and an impressive towing capacity of up to 7,700-pounds.
COMFORT
In terms of comfort, the Nissan Frontier offers zero gravity front seats, dual-zone automatic temperature control, and heated seats, steering wheel, and mirrors for those chilly winter adventures. The Chevy Colorado offers accommodations of up to five passengers with convenient storage cubbies underneath. The Colorado also offers extra connectivity features and innovative technology to boot.
CONTACT US
Want more information about the 2022 Chevy Colorado or any other models in our lot? Contact us today and one of our associates will be happy to help!
MAKE AN INQUIRY